Australia.
Byron Bay, February 2nd, 2003 - Stef
Sydney, March 21st, 2003 - Seb
Byron Bay, February 2nd, 2003
Gdday mate!
You might have guessed that my pitiful attempt was an written phonetic imitation of the australian accent. For the more observant, you might also have guessed that I am in Australia, a land full of didgeridoos, kangaroos, boomerangs, big deserts, as well as descendants of convicts and murderous colonials. Well I'm afraid this trip to Australia will not be a cultural one, as I am visiting the east coast between Sydney and Cairns, The Tourist Route by definition, with everything to be seen besides Australians.
Right now I am with Jerome in Byron Bay, a seaside resort for outrageously kewel people with the cunning disguise of a hippie place. When we got here, we saw people smoking spliffs by the beach, loads of art shops and malls selling all these scruffy colourful clothes with groovy patterns, a few campervans with people sleeping in them close to the main street, and the tourist information girl wearing a long bright green dress and a nice fluffy pair of black armpit hairs. When we got to our hostel, the shock was even more stunning: metal sculptures, hippie messages on walls and ceilings, tippies, bare footed people wearing very little, loads of tattoos and piercings, guitar and bongo playing everywhere and a double decker bus painted and made into a dormitory. So a very hippie feel to it, but the place didn't really feel like a hippie community with groups of people getting together to play music or learn to paint, chatting away all night by the fire, sharing stuff and being generally friendly. It was more of a kewel place for kewel people, with Oakleys, guitars and surf boards. Hiya Charlie! How you doing? What you up to today? Surfing? Kewel! I'm going surfing too, I'll see you at the beach! Kewel! (big cheesy smiles to celebrate a nice and empty conversation). To our great disappointment, the conclusion of our three days here is that we are not quite kewel enough, we need to work on our kewelitude.
Christmas and New Year in the summer sunshine - Tauranga to Taupo (25-31st December)
Rotorua, North Island, NZ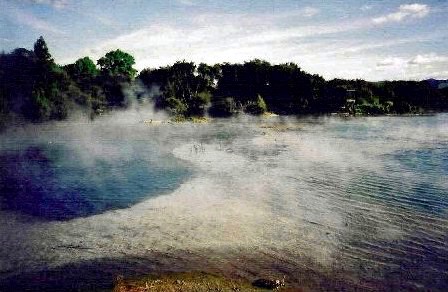 Rotorua, North Island, NZ
Let's rewind a little. Christmas was fantastic as I got to enjoy the delights of the kiwi hospitality, a great load of hugs and thanks to Natalie and her family in Tauranga. After a few days in Tauranga, I decided to get going with my demanding schedule, as I am a busy professional tourist. I went to Rotorua and I'm not going to bore you with this, I think I already mentioned this. Basically, loads of geysers, boiling water pools, smoking lakes, yellow and orange streams. Saw a fantastic Maori concert, 2 guitars and 8 voices, male and female, beautiful stuff. Not too sure about all their war yelling in the background though and their funny faces with their tongues sticking out. If anybody is interested, I bought a CD of their music. Playing the piano in the Rotorua campsite, I made a lot of fans as usual, with gorgeous heavy breasted women drooling with awe and ripping their tops off in the hope to be the first to give me their bra with their phone number embroidered on the strap. One of my fans (a swiss chap) was not quite as thrilling but very friendly and agreed to give me a lift to my next destination, Taupo, where I spent New Year's Eve.
Except for the lack of fighting and the nice breeze of a warm and dry summer night, New Year's Eve in New Zealand is pretty much the same as any good night in the UK, with a lot of drunken people in the streets pouring in and out of bars, loads of toad-like bouncers on their usual power trips giving people a hard time, and a night killed to an end round 2 or 3 in the morning when all the bars have to shut. Apart from partying, I had a look round Taupo, watched people bungee-jumping (definitely did not do any myself), went swimming in a hot water river, and went for a huge walk to get rid of a sweet hangover.
The Return of the Jerome - Wellington (1-2 January)
After a 6-hour bus journey to Wellington on January 1st, I met up with Jerome. I still remember asking Jerome a few months back about where he would be for New Year. He said: "I will be in the plane. I will just have said goodbye to my girlfriend, whom I will not see for several months. Oh, yes, the 31st December is also my birthday." Always look on the bright side of life....
Wellington is beautiful. Lovely little port city inside a bay, protected by highish hills, so the houses seem to climb up on all sides of the city. Very windy apparently, but it wasn't when we were there. After the Lord of the Rings (the movie) came out they temporarily renamed the city Middle Earth, and there is a huge statue of Gollum decorating one of the cinemas. We went to see to Exhibition for the Lord of the Rings, which showed us amongst other things how Gollum was made; the work behind the city they built from scratch for the movie, filmed for a few weeks and then dismantled; how the special effects for the battles worked. Very interesting stuff.
Back to raw nature - Kahurangi National Park (3-8 January)
After a night on the ferry and a few buses, we tried out the kiwi hitch hiking potential, and we concluded that it was excellent, because we got to the entrance of the Leslie Karamea track in no time, and started walking the same day. The track was in the forest on the riverside most of the time, and we enjoyed our daily ritual of fighting over food, walking, cooking rice / pasta with a rich nothing flavour on the fire, swimming in beautiful but freezing river ponds, sleeping like logs, and of course fighting the sandflies who were the living nightmare of this trek. As usual, we managed to get lost and extended our last day, which was supposed to be a short day, to a pretty long effort, where we followed a 4X4 track leading nowhere and ended up walking with our shoes on in the river bed.
Leslie - Karamea track (Northwest of the South Island, NZ)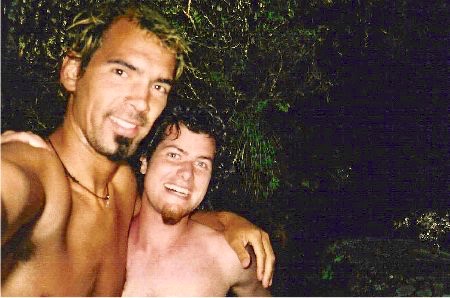 Leslie - Karamea track
Leslie - Karamea track
Leslie - Karamea track
The Kiwi hitch hiking Experience - Westport to Queenstown (9-15 January)
Westport was our first port of call as we crawled back to civilisation, smelling - as my mentor Black Adder would say - like a pair of armoured trousers after the hundred years war. We were in ecstasy as we enjoyed the luxury of a bed, a shower, stupid and pointless american movies, and the contact with people. We met the Kiwi Experience crowd, the real tourists who come all the way to New Zealand to get drunk on a bus with people from their own country and see nothing but the tourist spots. I am so glad I don't have the money...
We then hitched further south along the South Island's west coast, stopping at Punakaike (see picture), a place with bizarre cliffs that look like pancakes due to erosion from the sea. We hitched further to Greymouth, a rough industrial town with nothing to see whatsoever. The next day was a full day in the car down to Queenstown in the rain, via the Franz Josef Glacier. Queenstown greeted us with rain, booked up hostels and an Irish music band that overpowered the existing meaning of the word pathetic. The bass player was probably a butcher in another life and the singer sounded like someone was holding his nostrils pinched together as he sang. So needless to say the evening was not fantastic.
We decided we should get our system cleaned up again before we headed for the Australian beaches, so we hitched to the entrance to the Routeburn track a few hours away from Queenstown. Either we were particularly quick, or the time estimates they indicated on the maps and signposts on the track were made for 80 year old blind women with one leg and a serious heart condition, because they were particularly generous, and our first day lasted 1.5 hours before camping by the river in a beautiful green valley. The next day lasted 8.5 hours, which was a little harder. The scenery was just awesome, the most memorable moment was ending a long stretch along a crete and looking down on a lake down in the valley, with different shades of turquoise blue and an island in the middle.
The way back was probably as tiring as the walk itself. I was picked up by a very energetic kiwi who happened to be late for work and almost fell off the road a few times. My hands were dripping with sweat, my face got stuck in a tense terror grin as I struggled to keep my composure when we overtook lines of lorries just before "45km/hr" signs at 120. By the time we got to Queenstown my bottom crack had increased in length by about 5cm.
A last hug to my Tauranga hosts - Tauranga (17-20 January)
Jerome went to do another trek further south, and I made my way back up to Tauranga, where I had had such a great time at Christmas. I had the pleasure of helping Natalie move to her sister's house, I was spoilt to more great dinners, I got loads of entertainment from Natalie's nieces, and a good damp kiss from their cuddly rotweiler. I tried my luck at busking, which earned me an honourable 15 euros over 1h30, not bad for a start. I will wear a cleavage top next time, maybe I will get more.
That was New Zealand anyway. My impressions: fantastic landscapes, but no village or city (except Wellington) had anything really pretty about it, mainly because everything is so new. My experience with the people was great, I found the humour very similar to the English humour, and their hospitality was brilliant. Now I know what it's like I'd love to go there again to discover more, because one month to cover New Zealand is definitely too short.
Aussieland begins - Auckland to Sydney (21-25 January)
When I got to Auckland airport, I checked in, passed security and sat down at the departure lounge. A few seats further, a smelly looking creature lay sprawled across several seats with its shoes off, revealing stained socks, and it was using a holy plastic bag as a pillow. I thought about calling security but then I thought it was none of my business. It was only when the creature opened these foggy slots it used as eyes, turned its head in my direction and called me by my name that I realised it was Jerome, who had walked non stop for several days with no opportunity to wash, and had stayed awake all of last night because his bag had been stolen in Christchurch, which contained his precious travelling journal he had filled in regularly with priceless details of a beautiful 3 months trip.
We landed in Sydney after a 3-hour flight. Nice to be back in a big decadent city. The place we stayed at sounded more like a homosexual brothel than a hostel - The Pink House- but it was quite respectable, I can assure you, which cannot be said of the neighbourhood, where we watched a parade of drug addicts, cops and prostitutes walk by as we ate our burgers on a local terrace. Sydney was nice, with a very strong asian flavour to it, preparing me for the rest of my trip. We walked around Darling Harbour, where I did a bit of busking and got evicted by a policewoman, saw Circular Quay from where we made a ferry trip to Manly, a trendy beach on the other side of the bay, and enjoyed the delights of the cheap Asian food halls until soya beans poured out of our nostrils. We also had the pleasure of meeting a part of Stafford's family (Stafford is a good friend from the Stepstone days in Dublin), Tim and Alex (father and sister respectively). Tim treated Jerome and myself to a good old steak and wine evening. Tim, thanks again for your hospitality, it was great to meet you!
The Aussie hitchhiking Experience - Blue Mountains to Byron Bay (25-31 January)
Once our three urban days in Sydney were over we decided to head off to the Blue Mountains, about 2 hours northwest of Sydney. They are called the Blue Mountains because of the droplets of oil that evaporated from the Eucalyptus trees, just thought you might like to know if you didn't already. There was a huge fire hazard when we were there, so the valleys were all closed unfortunately, which kind of killed our intentions to go hiking. In Canberra the fires there had destroyed over 400 homes over 2 weeks and was still going. We visited Leura and Katoomba, as well as three huge rocks called the three sisters who, according to the aboriginal legend, were turned to stone by their father, the local witch doctor, who refused to see them married to 3 brothers from another tribe. Fantastic what you can learn from reading a useless travelling website from some clothead you know, isn't it?
We were counting heavily on hitch hiking for our trip from Sydney to Cairns as Australia and New Zealand are both very expensive. So we left the Blue Mountains with high hopes, as New Zealand had worked so well. But on our second day, when we covered the most impressive distance of 70kms over 8 hours, we thought we might reorientate our strategy a little. So after Terrigal and Newcastle, we took the train to Byron Bay, where we are now. Life is tough, we have planned our busy schedule for the next two weeks, after which Jerome will be flying back home (snif snif). I will have another few weeks in Australia before heading for South East Asia, the part of the trip I have been the most eager to get to.
Bye bye for now, take care of yourselves. Loads of warm handshakes, tight hugs, affectionate pats, lively tickles, firm back rubs, and sensual nipple nibbles (for those concerned only). Keep in touch, it's great to hear from you all to stay connected to the real world. Speak to you soon!
Stefan
---
Pancake Rocks in Punakaike, West Coast of the South Island, NZ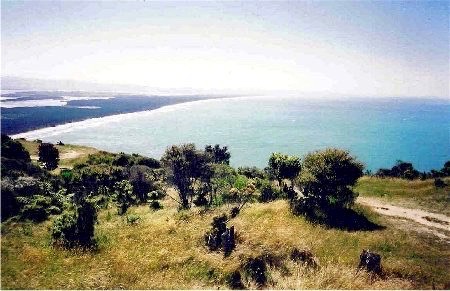 Mount Maunganui, North Island, NZ
Hitchhiking in Queenstown, South Island, NZ
Sydney, March 21st, 2003 - Seb
Konnichiwa!
Voici quelques (breves, cette fois-ci) nouvelles depuis l'autre cote de la planete. L'aventure continue, je suis depuis 2 semaines deja a Sydney, et il fait chaud et beau. J'ai donc fait mes adieux a la Nouvelle-Zelande, mais pas a Fumika qui m'a rejoint a Sydney pour mon anniversaire - chouette cadeau!
Seb & Fumika, NZ
Mais revoyons plutot la scene au ralenti.
>> The Honda Experience, NZ (12 fevrier - 8 mars 2003)
12.02.03 Fumika et votre narrateur quittent Christchurch vroum vroum en cette belle fin d'apres-midi, a bord de leur formidable HONDA-mobile, mem mem mem, le coffre charge de bagages et bourre de victuailles. La HONDA EXPERIENCE peut commencer.
The Honda Experience, NZ
Nous prenons le large, quittons la ville et ses perversions et roulons a travers la campagne neo-zelandaise. L'ile sud de la Nouvelle-Zelande est magnifique, comme j'espere quelques-unes de mes photos pourront en temoigner. La caracteristique premiere en est la diversite des paysages, concentres dans un espace plutot restreint: chaines de montagnes, glaciers, lacs glaciaires, fjords, ocean, plages, faune tres diversifiee etc.
South Island, NZ
Rain-beau, NZ
Mount Cook National Park, NZ
South Island, NZ
Fumika decouvre la liberte et les joies que peuvent procurer le camping sous tente. Premiere fois qu'elle campe en 29 ans, il n'est jamais trop tard - il parait qu'a Tokyo ca ne se fait pas trop. Je ne suis pas en reste en matiere de surprises; une nuit que nous campons dans un camping libre dans les montagnes du Mount Cook National Park, la tempete se leve pendant la nuit avec des vents comme ma tente (non, pas ma tante) n'en a jamais affrontes en 6 mois de voyage. A maintes reprises durant la nuit la tente s'ecroule sur nous, les arceaux se cambrent et les sardines sautent regulierement m'obligeant a faire de nombreuses sorties pour les replanter dans le noir, sous la tempete, dans un sol peu propice a cela et avec le seul outil que j'ai a ma disposition: une boite de sardines, justement... (pas une bonne idee du tout). Ce sont la les joies du camping!
Hormis le camping, Fumika et moi avons trouve d'autres terrains d'entente. D'abord le gout pour la bonne bouffe, et nous ne comptons donc plus les heures passees chaque jour au fourneau. J'ai entre autres appris l'art du Sushi et enseigne pour ma part l'art des crepes, ou encore celui de... la TARTE AU CITRON (oui, je m'y suis enfin mis, et on ne m'arrete plus). Ensuite, la conviction qu'une bonne journee se termine par une seance de Shiatsu (Ca fait du bien la ou ca fait mal)!
Sushi Experience, Dunedin, NZ
Depuis Christchurch nous longeons la cote est vers le sud en direction de Dunedin, puis empruntons la Southern Scenic Road qui longe toute la cote jusqu'a Invercargill a l'extreme sud de l'ile (plethore de phoques, loups de mers et pingouins), puis remontons vers Queenstown en faisant un detour par le Milford Sound en plein Fjordland. La route vers le Milford Sound, qui traverse un col en altitude, nous a meme offert de la neige en plein ete. On s'est pas mal caille, mais c'etait joli.
Sourthern Scenic Road, East Coast, NZ
L'arrivee a Queenstown, capitale du tourisme "aventure" en Nouvelle-Zelande, est assez comique. C'est un deluge d'offres pour des activites outdoor, et ca grouille de partout: avalanche de jet-boats, bateaux de croisieres, parachutes ascensionnels, parapente (le ciel en est rempli!)... et surtout Bungy Jump, dont Queenstown en est la capitale mondiale. Et justement on s'est arrete sur un des sites pour jeter un coup d'oeil. Eh bien pour moi le coup d'oeil a suffi - le Bungy Jump, c'est tres marrant a regarder... De la a vouloir m'attacher les pieds a un elastique pour sauter dans le vide d'un pont a 50m au dessus d'une riviere... il y a plus d'un pas, non merci!
Apres Queenstown, nous remontons vers le nord par la cote ouest, qui vaut egalement largement le coup d'oeil. A Jacksons Bay, plage deserte de galets, on se baigne dans la mer avec vue sur les sommets enneiges des Alpes. La classe.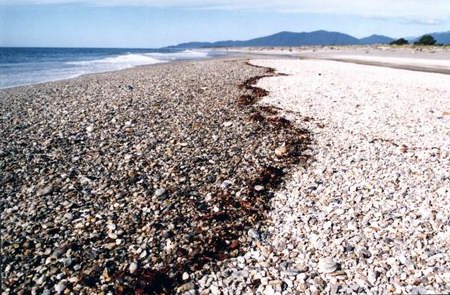 Neils Beach, Jackson Bay, West Coast, NZ
Apres 3 semaines et 3500 kms, nous achevons la boucle et retournons a Christchurch, ou nous vendons la voiture. Je fais mes adieux snif snif a Fumika et m'envole pour l'Australie.
>> Sydney (8-21 mars)
Me voici donc a Sydney depuis 2 semaines deja, vivant un peu au ralenti pour quelques temps. C'etait mon anniversaire le 12 mars dernier (26 ans, aie aie aie, mes pauvres rhumatismes, itai itai) et Fumika m'a fait la surprise de me rejoindre ce jour la, avec une bonne bouteille de vin dans les mains. Fumika sait y faire, KAMPAI!
J'ai fait l'acquisition il y a quelques semaines d'une excellente petite guitare bon marche et je profite de ma sedentarisation temporaire pour m'initier aux joies du Busking sur le port de Sydney. Pas evident de se poser sur la voie publique et de commencer a jouer et chanter le rock'n'roll pour un public inexistant de badauds indifferents. Cela dit, je ne suis pas le seul (et surtout pas le premier) a faire cela, et en mettant de cote sa timidite naturelle, c'est pas si difficile que ca. Et croyez-moi ou non, certains meme apprecient et me jettent une piece, ou meme parfois un billet! Et les Coreennes sont tres branchees photos! A moi l'OLYMPIA!
Voila chers tous quelques nouvelles de la Terra Australis. Plutot concis cette fois-ci, mais quoi, ca ne peut pas etre un roman a chaque fois. Mes plans pour les semaines a venir sont encore a l'etude.
Bye for now,
stay tuned and take care, OK?!
Seb
PS: Un nombre toujours croissant de mes camarades a l'autre bout du monde n'en finissent pas de se marier ou de faire des bebes. Allons, allons un peu de tenue, que diable! Toute cette petite progeniture a venir embrasser a mon retour, ca va en faire du boulot!
"Nihongo wa shabele massen", NZ
Hooker glacier, Mount Cook National Park, NZ
Petrified Forest, East Coast, NZ
---