India.
Delhi, July 14th, 2003
"So here we go ! After months of dreaming about it, after hours blankly staring at the wall imagining what such a trip would be like, we are now gone." That was the first sentence I wrote on this website that now gathers a fantastic old pile of memories for Seb and myself to keep for ever on a dusty hard drive and show to our grand children, pets and mistresses. It seems very strange to read about it now, on my way back to Europe after 11 months and one week of traveling.
What did I learn from this trip? Difficult question to answer, and as Seb mentioned, it would be quite boring to make a list here. Maybe to sum up, we could say that a trip like this makes us take a step back from social pressures that lead us to believe that the predetermined format of living that we go through at home on a day-to-day basis is the only way of life we have access to. In fact, anybody with a job (which maybe I take for granted) can decide to take a break and be completely free for some time. For some people it's possible tomorrow, for others it's a matter of trading off material possessions or other luxuries wrongfully considered a necessity. But I do not believe any more that you can feel trapped by the work-till-retirement syndrome after a trip like this. If I need a breath of fresh air, I'll take it and I think everybody can and should do the same.
Anyway, after all this simplistic and patronising philosophical blabber, maybe I should tell you what ghastly place I happen to let my scummy body ooze through at the moment. Well I am in Delhi, India, and the monsoon which has recently arrived with rain, floods and drizzle makes the air so hot and humid that a thin and slimy layer of sweat has currently pitched its tent on the surface of my skin and does not look like it will slide off until I bugger off back to London tonight. I am busy buying presents, and writing up the closing ceremony for our website.
Kneading the human dough
Thai Massage Course, Chiang Mai, Thailand
12 May - 7 June
It has been two months since I last sent some news, and no, I am not involved in any secret or mystical sect involving mass suicides, carrot sodomy or anything of the kind. As I mentioned in my last update, I needed an objective for the rest of my trip, and I found two: one was a Thai massage course, the other was a trek in the Himalayas.
In Bangkok (my favourite city) I met two guys, Rafa the Spaniard and Alfredo the Basque, who were off to Chiang Mai to do this massage course, and I didn't need much convincing so I went with them. Before we started the course, we treated ourselves to a little 3-day trek in the jungle, one of these friendly happy package tours where you can be spoilt, behave in an obnoxious way and enjoy your bubble of luxury until you fall back onto the hard tarmac of reality. We walked a little, rode on an elephant, went down the river on bamboo rafts, and stayed with a hill tribe who lives in clean but totally basic conditions almost auto-sufficiently. Bamboo huts, pigs, cows, chicken and ducks, a few fields and the river for washing and drinking water. No toilets though. I still vividly remember finding Rafa in a state of severe nausea after his morning's gift to nature was hurriedly swallowed by a local pig before Rafa even had time to treat himself to a good wipe. I think he still remains traumatised.
Elephant riding in the northern Thai jungle, near Chiang Mai
The Thai massage course was a fantastic experience. The technique they taught us in the Institute of Thai Massage was Nuad Bo-Rarn, which they nickname yoga for lazy people, and our day-to-day routine for three weeks was as follows:
- an hour of yoga and stretching
- an hour of lessons
- an hour of practicing in sync with the teacher
- lunch
- two hours of practice on our own
I got a one-and-a-half hour massage by one of the staff once and it was orgasmic. You get rubbed, scrubbed, pulled, twisted, caressed, pressure-pointed, kneaded, pressed, thumbed, walked on, squeezed, asphyxiated and oxygenated, and sweated on occasionally. A wonderful experience. So of course if you are a stunning woman with breasts like golden pumpkins and a bottom like a smooth peach, please contact me for a Thai massage on takingadvantage@hotmale.com.
Rafa the Spaniard and Alfredo the Basque, resting in our cosy massage course environment.
The three weeks went by rather quickly, interrupted by three events. The first was a weekend when we found out our Thai visa had run out and we had to get out of the country. We looked at the map, found the closest border, which happened to be the highly frowned upon military dictatorship of Burma, and we hopped on our rented motorbikes and whizzed there for the weekend. We only stayed one hour in Burma, and we were assaulted by salesmen frantically trying to sell us something. Rafa the Spaniard was conned into buying cheap Chinese cigarettes that smelt like horseshit, which would cause a dead man with his nose cut off and toothpaste on his upper lip to turn around in his grave.
The second interruption was a visit from Sallie, who had finished her 2 months acupuncture internship in a Nanjing hospital (China) and was visiting northern Thailand for a few days. It was great fun to catch up. Having dragged back a heap load of English tourists from her jungle tour, we had a good singsong session in our local, the Rasta Cafe, which ended abruptly with a fight (not involving us of course).
The third interruption to our quiet month was me getting oil massaged all over, naked, by two men. Sounds kinky, doesn't it? Well, it's not what you think, a phrase commonly used in other awkward circumstances. A female traveler asked Alfredo the Basque and myself if we wanted to be guinea pigs for oil massage students, and being massage students ourselves we agreed. Then they only needed one person so I went alone, and they convinced me to take all my clothes off. When they started massaging me close to the groin, very often "accidentally" touching my family jewels, I was starting to wonder what I was doing there. When I had four hands on my arse groping and kneading with a large wallop of oil, I was seriously contemplating the idea of running for my life. Anyway, had it been a lady I probably would not have been so fussy.
Overall, it was very nice to feel geographically stable again for a few weeks, with a little routine of getting up at a regular time in the morning, going to the massage course, going swimming, having dinner and a beer with a group of people you get to know a bit better every day.
But that was not going to last forever, for I had yet to fulfill my second objective which was to go trekking on dry land, in Northern India. I had originally planned to go through Cambodia, Vietnam, Laos and China, but my travel motivation had died down completely and I could not see myself backpacking from temple to beach to city along with a group of overhappy early-twenty-somethings. Also the SARS issue did not especially encourage me to go to Hong Kong. So I flew to India.
The long trail to the hills
Bombay to Shimla, India
8 - 12 June
My One World Explorer fare did not allow me to fly to Delhi, so I landed in Bombay. I took a taxi to the train station early in the evening and realised quickly that I was about to see the roughest country of my trip. Slums all the way to the city centre, shacks made out of a few pieces of plywood and a dirty sheet, along the railway line or underneath bridges. People sitting around the fire between the lanes of a potholed dual carriageway, cooking their dinner. All kinds of beggars, deformed people, one-armed and one-legged men searching for scraps in a rubbish dump. Ruins of buildings under construction. The urban poverty I was driving past here looked much harder to handle than some of the rural areas I had seen in South East Asia, where people had nothing but could live with the nature with minimum standards of hygiene. In Bombay this didn't seem to apply.
On the roads, the only rule that seemed to prevail was that of respect for the heaviest. The taxi's horn was pressed down more than it was off as cows and people randomly walked all over the streets pulling huge carts, crossings became congested as three-wheeled rickshaws bluffed their way through hoping they would not be crushed by one of the oncoming buses.
To sum up, Bombay was a chaos I was looking forward to get out of, especially with a temperature of 45 degrees. My traveling motivation took another plunge.
10 days. That is what the ticket man told me I would have to wait to get a seat on the Mumbai Rajdhani express train to Delhi. This was one of the many reminders that India used to part of the distinguished British Empire, who had generously left their highly professional railway savoir-faire as part of their heritage to India. Luckily, I heard of a secret tourist office somewhere where you could get special tickets as a foreigner. So I went all across town in a taxi to buy a more expensive ticket for a 17-hour journey to Delhi. I have never liked air conditioning, but I hugged and blessed and revered it this time round. I slept like a baby on the top bunk, waking up periodically when someone slapped his cheek on the arch of my cheesy foot sticking out into the corridor, cursing himself for doing so and I certainly didn't blame him.
My first experience with Delhi was an Indian chap smiling from ear to ear telling me the government tourist office was the other side of the square and I should follow him, and another guy telling me the government tourist office was shut today. I sighed, got rid of my recently acquired parasites, and walked into the tourist office to buy my ticket to the mountains.
A human horse in Delhi, India
12 hours to kill is not easy, but I was getting bloody good at it by the end of the day. I developed a casual I-don't-give-a-damn expression while getting evicted from air-conditioned restaurants and finding another after a few minutes, dodging the hostel owners, rickshaw drivers and salesmen literally clinging to your arm. Paharganj, the backpackers area of Delhi, looked like Bangkok's Khao San Road had been put in the washing machine too hot, and smelt like it had been rinsed with a good fistful of pig manure. Run Forrest run!
Another night in the train, and at last I was in Kalka, at the foot of the mountains. In contradiction to what I had been told at the tourist office, there was no bus to Manali, the place the tourist office had recommended as a beautiful trekking base. So instead I took a local bus to Shimla, an old hill retreat that the fat gin-drinking British imperialists had built to get out of the heat for the summer months. The place was nothing but a tourist trap for Indians, with a temple full of aggressive monkeys, expensive hotels, and a nice view from the statue of Ghandi, the "Father" of the nation.
The Israeli den
Manali, India
13 - 21 June
8 hours on a bus through awesome mountain views and I finally got to Manali, where I wanted to be after 6 days non-stop traveling from Chiang Mai, Thailand. After 2 days resting I discovered where the nice backpackers area was, about 2 km upstream in Old Manali. What I found there was in fact one of the most densely populated Israeli dens I have seen on this trip to date. Not that I have anything against Israelis individually, Jerome and I spent two months in South America, with two wonderful Israeli girls, and I keep bumping into friendly people from Israel I enjoy spending time with.
But as a group they are the nationality with the most exclusive behaviour I know, probably even worse than the French. If you are not from Israel, you will be ignored intensely. After a year of meeting so many Israelis and observing the same pattern, I sometimes wonder why they have such a careless attitude towards earning people's respect. They stay together and speak Hebrew amongst non-Hebrew-speaking travelers, they are loud and disrespectful to locals, they have long hair, piercings, tattoos that tell you aloud "I do whatever I want", smoke dope all day and organise private parties. One of the interpretations I see of this behaviour is that most of the Israeli travelers have just finished the compulsory 3-year army duty, which I suspect is not as easy as the abolished compulsory French military service, whose main accomplishment for the average "soldier" was to smoke cigarettes in a changing room for a year. So I can imagine that after three years of hard training, hierarchical pressure and maybe shooting children with stones in a conflict that is not likely to ever end, this section of the Israeli population, once released from its chains, enters a bubble of freedom, safety, happiness and the strongest feeling - amongst other fellow Israelis - of solidarity to a group within which the members have a lot in common and a great unspoken respect for each other.
So I decided to escape again. But I was facing a strong feeling of indecision as I heard an illegal full moon party had been organised in the Solang Valley around 10km upstream from Manali. Because it was a type of party I had never been to before, I decided to go. In a matter of hours, the peaceful valley became a site of human decay and carelessness. The river was pissed and shat in, the untouched moss was covered in pink toilet paper and aluminium plates. The sound of birds and wind was replaced by the invading sound of techno music. The sweet smelling air was invaded by the reek of alcohol evaporating from the orifices of half dressed creatures sprawled over the grass with a drooling grin on their faces. Pills were popped, spliffs were passed around, and people talked to each other if both happened to be Israelis. The party lasted three nights and two days and when people finally went home the valley looked like a dump.
Three days of trekking were enough to wash my mind from the memories of the last few days. I walked up the Solang Valley, camped by a weather station and carried on up the mountain to a frozen lake at 3000m above sea level called Beas Kund. I was in the pure nature at last, and I was in paradise.
Vashisht, a day trip from Manali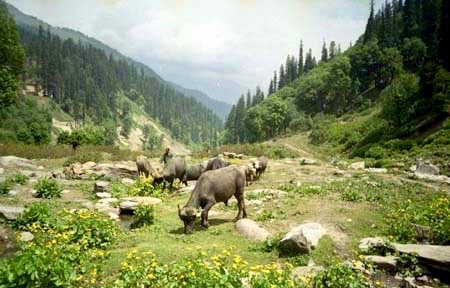 Buffalos in the Solang Valley, near Manali, northern India
Reluctantly, I settled back into the Israeli den for a few days to rest and organise my trip to Leh. I spent some time with a Brazilian, an Australian, and an obese American, who ate too many "chocolate" cakes one night and did us the honour of vomiting on the table in front of everyone.
The journey from Hell
Manali to Leh, India
21-23 June
What I went through next was probably the worst bus journey I have ever encountered. First, the journey was meant to last two days, which is bad enough, especially since the potholes made the trip as comfortable as sitting on a vertical cucumber with a hot potato in your mouth. The journey lasted three days, because we punctured twice and the driver needed 11 hours to go and get new tyres. In the meantime, we were stuck at 4500m all day and for 2 nights. The temperature went down to 3 degrees at night inside our tents. And of course a few of us, including good old me, were suffering from altitude sickness, which resulted in throbbing headaches, fever and vomiting, not to mention the old Mr D. regularly knocking at the back door.
Acclimatisation
Leh, India
24 - 30 June
Leh, in the province of Ladhak, Northern India, is stunning. The view of the snowy-peaked mountains, the temple and the palace on the hill, and the constant blue sky keeps you happy all day. As I later heard from a holidaymaker from Agra on the trip back to Delhi, Leh has a number of interesting characteristics. First, it hardly ever rains. The monsoon clouds that come from the southeast get blocked by the mountains, as the town lies at 3500m above sea level. The clouds that come from the west come from as far as the Mediterranean and by the time they get to Leh, they are empty and do not cause any rain. Because of the high altitude and the lack of rain, it is sometimes said that if your head is in the sun and your feet are in the shade, you can get sunburn and frostbite at the same time. Leh has the highest airport in the world, which prevents the airlines from flying with full aircrafts in bad conditions, as the air is thinner at this altitude. And if you follow the road up from Leh for some 40km, you find the highest motorable pass in the world, at 5600m.
Khardungla pass, 5600m
After being ill, I was happy to rest for a week, where I met a few travelers and had a relaxing time. We hung around the main square in the sunshine watching the untouchable cows wander around the streets, the stray dogs snooze between the parked cars, the water porters painfully pushing their carts up the hill, and the tourists coming in at an impressive speed as the start of the season kicked in.
The Maggi Trail
Markha Valley, India
1 - 8 July
Having heard from a couple of German tourists that the Markha Valley, a 7-to-9-day trek we were thinking of hiring a guide and ponies for, was populated by small shops and restaurants at regular intervals, we decided to buy three days of emergency noodle rations and just start walking on our own to save ourselves a little cash. When I mean we, I mean myself and Lars, a crazy Danish comedian with a lot of energy for humour, and Max the Swiss mountaineer, nicknamed Man Friday for his unreserved love of nature and all the raw habits associated with it. Some people went to see the Dalai Lama in the neighbouring village for a couple of hours, then we left for the walk. The scenery was truly awe-inspiring, a term employed by the lonely Planet to describe a not-so-impressive monument I went to see in Indonesia. Very dry, reminiscent of the Atlas Mountains in North Africa. Amazing brown-reddish colours and irregular rock formations, contrasting sharply with the bright oasis-like valleys where we would sleep at night. Many people were doing the same route as us, so we met up every night.
The Markha Valley, near Leh, northern India
The Indus River, near Leh, northern India
The Markha Valley, near Leh, northern India
We ate Maggi Masala noodles till they came out of our nostrils when we coughed. Sometimes we had the opportunity to eat with the families, but that was also very basic food with levels of hygiene such that we had to wonder if we would wake up the next morning. One day we got so tired of noodles and farm broth that we decided to do something. I crossed the river and knocked on the door of a farm, where I asked if they had some fresh meat they could sell us. They invited me in and I realised that they hadn't quite understood my question, as they gave me some curd with crushed barley powder inside and stared at me, smiling. I suppressed a shudder as I put the stuff in my mouth, fighting with the acidity. I tried again for meat, and the guy left and came back with a bag full of dried yak that smelt like rotten eggs. He cut off a bit and gave it to me to try, and I felt like fainting. I remembered my talent for drawing, and so I tried again to explain I wanted fresh meat:
Needless to say, I got a few blank stares, and I was saved by a guide who came in and led me to the house next door, where they had killed a yak yesterday. They led me to a room two metres wide where an entire yak in bloody chunks lay sprawled there on the floor or hanging from the ceiling on a hook. "Which piece would you like?", he asked as I mumbled something like "you can choose" and went outside to get some air. Anyway, the meat was lovely and it compensated our needs for protein we had been lacking during the trek.
Ladhaki woman in the Markha Valley, northern India
Young Ladhaki creatures on the Markha Valley, northern India
The trail was amazing and when we got to the end we were exhausted, which was probably why we didn't appreciate fully the annual Hemis Festival, which we went to see after our 8th and final day of walking. For an hour, a dozen people with masks sang songs reminiscent of the Ku Klux Klan, waving bells and little drums. After an hour, a tall man walked into the monastery courtyard with twenty disciples waving fans and holding an umbrella over him to cool him down. And then nothing happened until the break, which is when I left.
The annual Hemis festival, near Leh, northern India
I was back in Leh an hour later, and I was flying out of Leh a day later, over the mountains and towards Delhi, my last destination before I get to Europe.
The Jama Masjid, the largest mosque in India, Delhi
Any last words?
Delhi, India
11 - 14 July
For those who have missed out a little on the trip this is where I have been since August 2002:
According to one of these online as-the-crow-flies distance calculators and my acute common sense, the rough distance I covered this year can be split as follows:
-Cycle: 1500km
-Bus: 10,000km
-Plane: 29,000km
-Train: 4,500km
-Motorbike: 2,000km
-Boat: 1,000km
-Trekking: 350km
-Elephant: 1km
Well folks, this is the last update from me. It has been a fantastic experience, and I hope I can handle my reinsertion between the claws of geographical stability in a reasonable way. Seb has been home for a while now, I will ask him for a few tips. My first mission will be to figure out where home is.
Thanks to those who have been following our trip and sending us news on the way, it was important for us to be in touch and hear stories about home. I hope our stories allowed you escape for a few minutes and maybe give you inspiration for your own trip in the future.
I am ready to head home now, looking forward to it even. I am flying to London tonight, two weeks later to Dublin, two weeks later to Madrid, then I will make my way back home overland to reach Fontainebleau in September.
All the best to everyone, I am very much looking forward to seeing you and catching up with the latest stuff. See you very soon!!!!
Take care,
Stefan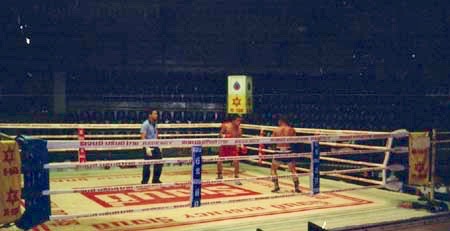 Thai boxing in Bangkok, Thailand
Bollywood movies, the pride of Indian cinema
---